Players Club Spotlight

Comparing Slot Clubs
The Taj and the Borgata
by Jeffrey Compton
There has been a lot of news coming out of Atlantic City over the last couple of years, especially involving changes in ownership, but unlike Las Vegas and several other markets, only two new casinos have been introduced over the last 15 or so years, the Trump Taj Mahal and the Borgata. This is not to say that there has not been considerable dollars spent on the Boardwalk. Almost every property has had several major renovations and expansions, and all are in tip-top shape.
So on my last trip to the great Atlantic City, I decided to concentrate on just those two properties and check out their slots as well as their players club.
Trump Taj Mahal
The Taj screams big! At 157,000 square feet with 4383 machines it is one of the biggest casinos in the world (though not the biggest in Atlantic City—that goes to the Bally's Park Place—Wild Wild West combo). But due to its everything-under-one-roof design, the immensity of the casino is still striking, even after several visits.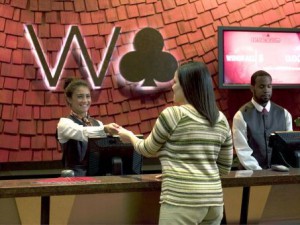 In spite of its large size, however, I find the Taj easier to navigate than many smaller casinos. The floor is well-lit, and has wide aisles. The well-maintained machine selection is first rate, and it is easy to find a popular game (and you will probably see variation of it that you were not aware of). The low level video poker is unexciting, but I did see some three-coin $5 8/5 Bonus as well as five-coin $5 9/6 Jacks or Better in the attractive high limit room.
As Atlantic City players club go, the Taj Card is about average. It does not give you a clue regarding how to earn points, comps and other rewards, but what you do end up with is pretty generous. One particular quibble I have is that when you insert your card, it just says ACCEPTED, and does not even greet you by name. After a couple of hours of play, I went to the kiosk which told me that I had $10 in comps (which I redeemed at the buffet cashier) as well as five points, and that when I got to 25 points in a month, I was entitled to a special monthly gift.
As with all Atlantic City casinos, the Taj Card offers extensive benefits to higher-end players including use of exclusive lounges and clubs (which feature extensive food & drink), but there was no literature available telling me what those benefits are and how to obtain them.
A few days after I returned home, I received a letter thanking me for my visit and an offer of $8 in cash on my next visit. Since then, I have gotten an offer for a comped weekday room.
(Note: You can take a bus directly to the Taj from several nearby cities and towns including Philadelphia and New York and receive a cash coupon when you arrive. By visiting the casino's website www.trumptaj.com and going to the "Motor Coach Information" Page I was able to find a bus that picked me up 10 minutes from my home for a net cost of $14.)
The Borgata
The Borgata whispers class! It is not only the newest property in Atlantic City, but away from the Boardwalk and somewhat distant from the other two casinos (Harrah's and Trump Marina) in the Marina, its location adds to exclusivity. The casino does not participate in bus programs, so most of the guests arrive by car or by cab (though you can get there for $1.50 via Atlantic City's famed Jitney service).
When you enter, you are greeted by two or three nicely dressed people behind a very attractive desk who direct you to wherever you want to go. My first stop was the My Borgata booth to pick up a card, which was a very quick process.
Like the Taj, the Borgata is very big but spaciously arranged. I do think that the signage could be better, especially as some parts of the casino are a bit dark. However, any complaints I have are completely negated by the casino's video poker inventory—if you like 9/6 jacks, you will find it in almost any denomination, including half-dollars and dollars.
The My Borgata card comes in two levels, Red Label and Black Label and it does not take long to see that Black Label members receive lots of special benefits. All members get Slot Dollars (which have to be redeemed on a later trip) as well as Comp Dollars which can be used when they are earned—especially at the casino's superior buffet. Those members earning 1,000 comp dollars in a 12-month period graduate to Black Label, and while there are no set formulas given regarding how much (coin-in) play is required to earn 1,000 comp dollars, one can at least estimate it based on current results.
One recent exciting attraction at the Borgata is the Power Prize promotion. Similar to Station Casino's Jumbo Jackpot, anyone playing in the casino with their My Borgata card is eligible to win the big jackpot which begins at $100,000 and is programmed to hit before it reaches $150,000. And when it does hit, everyone else playing with their card receives either $25 or (for Black Label members) $50. Sweet!
Players Club Spotlight.
Do you have a comment or question about this article?

Look for your question to be answered in either Casino Player or Strictly Slots Magazines.